Seminars and Training - Paul Hall & Associates
Our agency tries to host seminars every year that benefit our clients and our community. Most of these seminars have very little to no sales included. We host these seminars for educational purposes.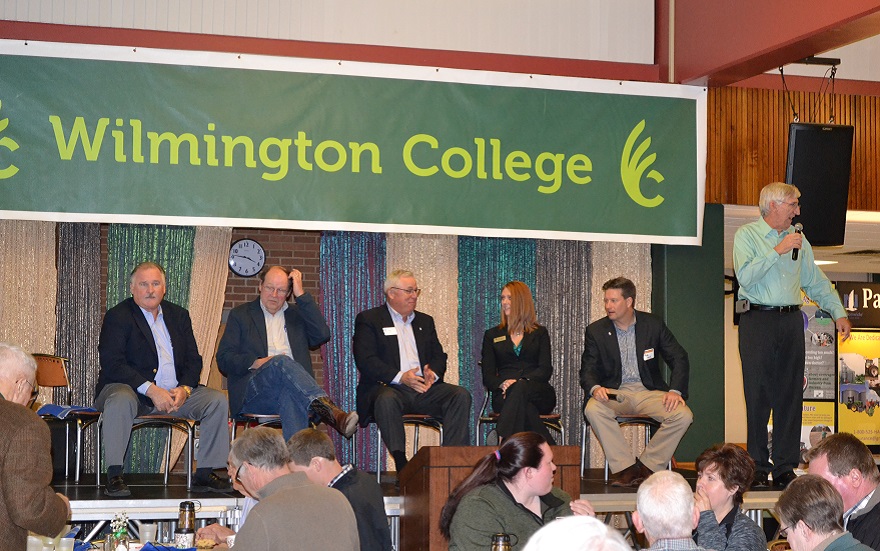 Our Expert Panel lineup at our 4th Annual Farm Seminar "The Future State of Agriculture" for a little Q&A with our 200+ attendees.

Pictured L-R Fred Yoder (President Trump's Ag Committee Member), Director Dave Daniels (ODA Director), Ken Davis (Nationwide Board Member and farmer), Tara Durbin (Farm Credit Mid-America VP) and Adam Sharp (Ohio Farm Bureau Executive VP) and Paul Hall (Paul Hall & Associates) as moderator.
Annual Farm Seminar
Every February or March we host our Annual Farm Seminar for the agriculture community. We focus on hot topics and trends in the agriculture world as well as important topics to think about as a farm/business owner. Some examples of our topics in the past include talking about employees and if they are 1099 or W-2 employees, Estate and Legacy Planning to protect the farm, Cover Crops, GPS Farm Data, Pollution Liability and trends of the commodity markets over the next year. We have speakers and experts from all over the state (and even a few from out of state) help us out so that you have a straight connection to the professional who deal with the issues at hand. We love taking suggestions for topics and every year we try and focus on what our attendees have asked for.
Long Term Care Seminar
Every few years we like to host a Long-Term Care Seminar to focus on the importance of Long-Term Care. 7 out of every 10 people over the age of 65 will need long-term care at some point in their lives. Because of this large percentage of need, we feel it is important to make sure you have the information you need to make smart decisions about your future. We bring in an expert to discuss all the different options and products in the marketplace to help protect you and your family. This seminar allows you to get more information without having to feel you have to buy a product today. Less pressure makes it easier for you to really educate yourself on what is important.
Estate Planning and Legacy Seminar
We also like to host an Estate Planning and Legacy Seminar every few years for the benefit of our farmers. This is open to all farmers and non-farmers alike, but it is very targeted to things like how to protect the land, the equipment, the farm. We feel it is important that you have someone on your side to help walk you through the 5 key elements of transition planning. This seminar helps explain the steps you need to take and how we can help get you there.